Wiener Wednesdays
Not long ago (last Friday to be exact) I tweeted through the company's account that we would give very poor food bloggers as we tend to eat whatever we've got and only then think about taking pretty pictures at what we just ate. That's never a great strategy. But at least you can see how much we like our food, right?
On Wednesday the 18th of September, we were invited by the lovely Sam & Shauna, the owners of the equally awesome Hangfire Smokehouse, to come to the opening of their Wiener Wednesdays. Now I don't know if you know but I love hot dogs, which made this the ideal opportunity to get down to The Canadian, a pub right in the middle of Splott to get to taste their true-to-its-roots food.
To give you a bit of an insight on what is Hangfire Smokehouse let me just say that these girls were the ones that sparked the authentic American smokehouse craze that Cardiff has got itself into.
After learning (well… eating really!) their way through that big chunk of a country throughout 2012 they returned to Cardiff to share their findings. Good thing they did too! Also, they are only using local produce in their food, which makes all the difference.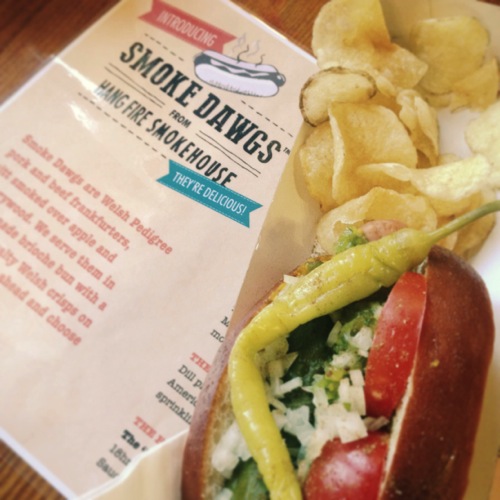 To cut to the chase, and to demonstrate why I'm such a poor food blogger, I ordered two Old School Sabretts, NYC style dogs, & an Atomic Chicago but forgot to bring the camera to properly show them off, instead Rita's iphone had to do. Really good stuff. Would have eaten a few more but didn't bring enough cash.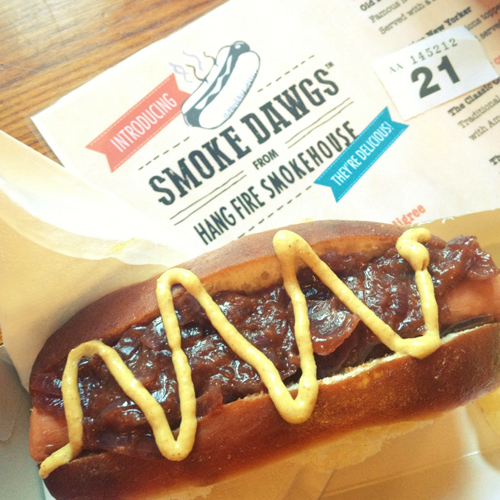 To get an idea why these were so good, firstly I never really had a hot dog other than the usual sausage+bun+plenty of mustard+plenty of ketchup combo, to see 5 different types of hot dogs on a menu really made my day (granted a two of them were variations but still…). Apart from that the way they used the brilliant One Mile Bakery's brioche buns & Jones' crisps was really nice, they are brilliant on its own but to see them all together in one lovely local co-operative effort was pretty cool. It adds an extra layer of goodness knowing that everything is easily attainable.
Why am I blogging about this? Well… I don't really want to have a fancy minimal blog that only talks about state of mind and personal opinions. I want to share what I like, and I like what Sam & Shauna are doing. They quitted their day jobs to dedicate themselves to something they love, and to me that is pretty damn inspiring.
Also, the 3 hot dogs I managed to eat did help! So don't miss their next Wiener Wednesday on the 16th October at The Canadian. I know I won't!