A nice day for a print centre experience
Last week I went to Staples to print our little man's birthday invites, I reckon my last visit to a Staples print centre before last week's was about 6 years ago and boy… there were plenty of good reasons behind it. As soon as I walked in I cursed my lack of organization this time round and why I didn't get everything ready on time to use my usual printing folks. Don't get me wrong, Staples is great if you need to buy some office supplies but their print centre definition should really be demoted to a photocopying station.
I got that uh oh feeling that made me want to stay away as soon as I approached the nice lady that works on the print centre. After a bit of a chat she told me they haven't got an edge to edge printer there… to put things on perspective a print centre without an edge to edge printer is hardly a print centre, it's more of a glorified large scale home printer.
I knew the end product was going to suffer but thinking about time constrains I apprehensively gave her my files (for which I was charged £3!! That shocked me, why did I have to incur in a fee to transfer digital files through a USB pen? How else would they get the files?). The fact that when I requested for a 300gsm uncoated stock she shook her head and said that they only use that kind of stock for business cards made me even more frustrated with the whole experience. Nonetheless I accepted that and was told to come back a hour after which was fine by me as long as everything was done and looked alright.
At first didn't really think anything of it but what a painful hour that was, couldn't stop thinking what a bad decision that was and how crap the invites were going to look in the end. I decided that if the quality wasn't what we agreed I wasn't going to pay a penny (apart from the fact that I had already pre-paid the whole thing… clever buggers… Fine! I would claim my £9 back).
One hour after I drove back to Staples find that the lady had forgotten to print my job, I wasn't angry about it. To be honest I was quite relieved by it, I still made an effort to see if she would be able to get it sorted but as soon as I saw what the output of the files would be I said: "Can I have my money back please? Not confident this will work at all, will need to get the invites on a different format." That was it for Staples print centre in my opinion. The fact that they offer different types of print jobs, from flyers to business cards baffles me. If they can't print a decent enough invite then how will they be able to produce something that needs a high level of detail and care? I saw their samples… Don't go there, your business card will be flimsy and exactly the same design as the one Jake, the friendly dog walker, has.
To all the dog walkers out there, there is a lot of love for your profession here and not trying to demean it, just an example, you definitely wouldn't want to have the same business cards as a lawyer, would you? Completely different sort of services warrant a different sort of marketing strategy.
Ever since starting my career as a designer I have had trustworthy and quality printers to work with, it genuinely makes a world of difference. My best advice for any sort of professional is to always get in touch with a reputable designer, someone that knows what they're doing and can advise on what is best practice, what is relevant and mainly what will work better. Designers already have strong links with established, reliable and quality printers. They deliver.
To all the designers out there, make friends with your printers, trust them and especially use them. Don't go to a print centre, support the industry and show your work in the best light you can.
There needs to be more good design out there and good design needs support.
—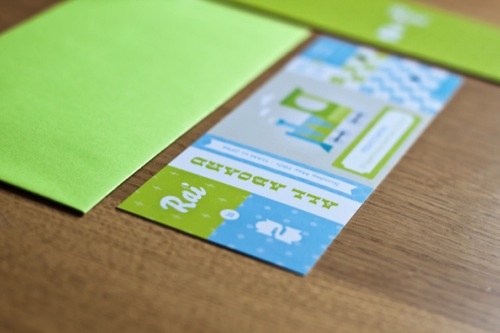 Oh! If you're wondering what happened in the end, I had to use a different print centre (silly old me but there was literally no time to use a decent printer). They did an OK job in 30 minutes but charged me for 20 copies when I only had 12 printed… Only noticed that when we started posting them… Another frustrating experience but I had it coming. If you get a lesson from this post it definitely is to get time under your control and use a quality printer.